SCHEDULE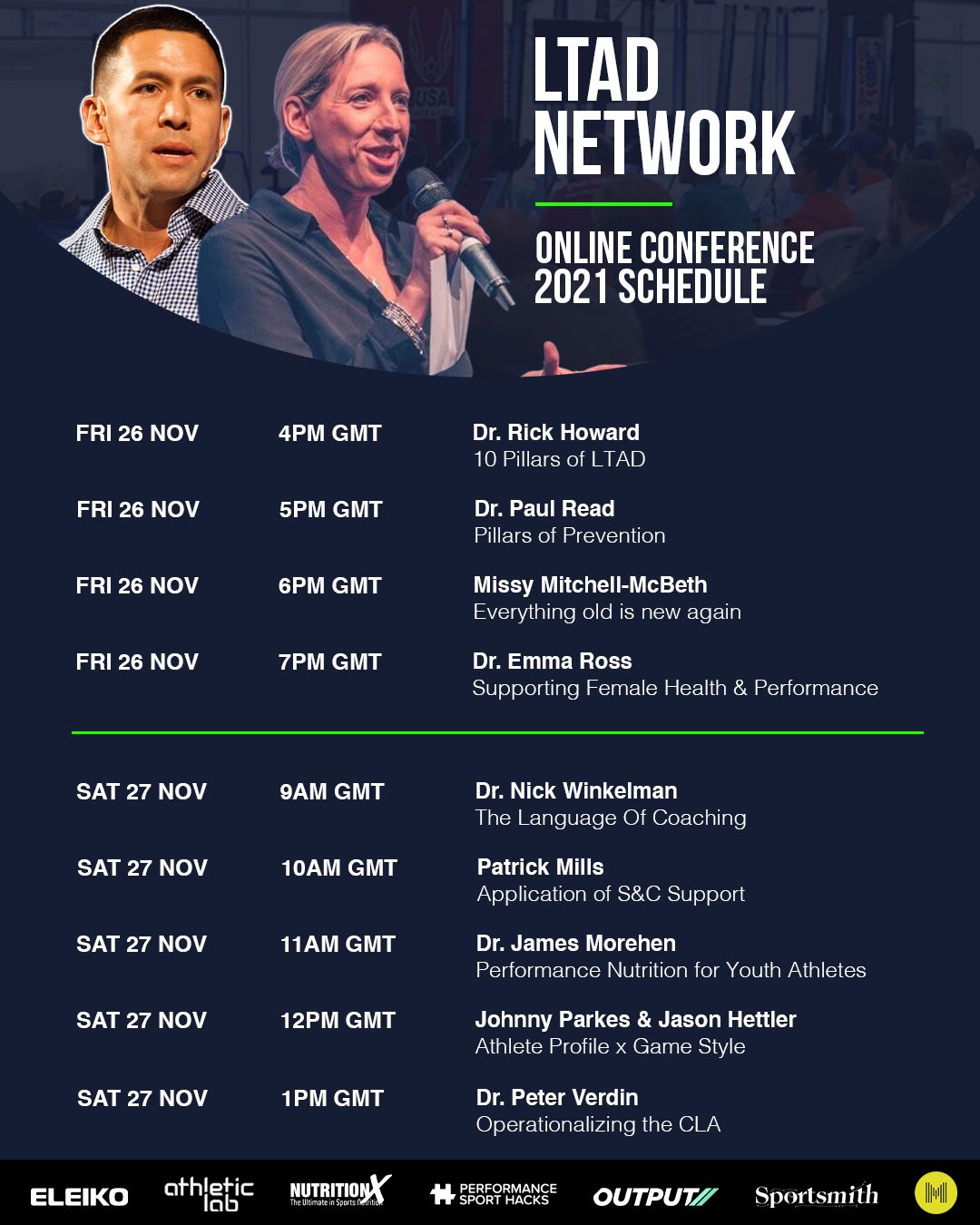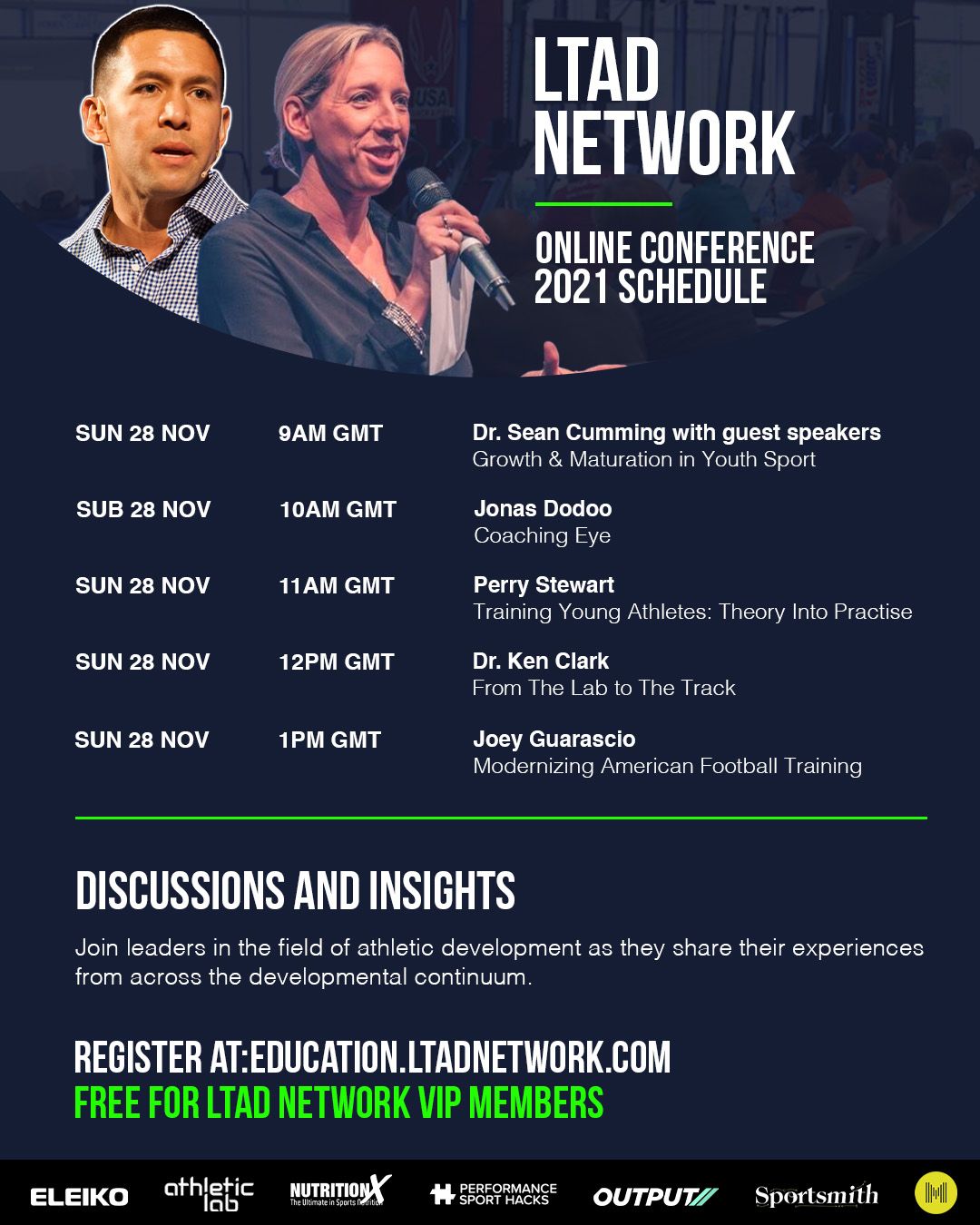 SPEAKERS


DR. EMMA ROSS
THE WELL HQ


Dr Emma Ross was, until recently, the Head of Physiology at the English Institute of Sport, working across Olympic and Paralympic sports and leading the EIS Female Athlete Programme. In 2019 she Co-Founded The Well HQ to broaden her impact of awareness, education and systematic change in supporting girls and women to thrive in sport.
SUPPORTING FEMALE ATHLETE HEALTH PERFORMANCE: BRIDGING THE KNOWING-DOING GAP
There is increasing awareness about where female athletes' needs are different from males & how understanding menstrual cycles, periods, bras and pelvic floors is important for athlete health and performance; But how do coaches translate this new knowledge into action & feel comfortable & confident exploring these topics with athletes.
DR. PAUL READ PhD, ASCC, CSCS*D, PGCE
THE PILLARS OF PREVENTION - EFFECTIVE STRATEGIES TO MANAGE INJURY RISK IN YOUTH ATHLETES
INSTITUTE OF SPORT, EXERCISE & HEALTH
Paul is the General Manager of the Institute of Sport, Exercise and Health in London and an Associate Professor at the University of Gloucestershire and University College London. He previously held roles as a Clinical Lead Researcher and Head of the Athlete Assessment Unit at Aspetar Sports Medicine Hospital, Qatar, Senior Lecturer in Strength and Conditioning at St Mary's University, and Program Director of Strength and Conditioning at the University of Gloucestershire. Paul is an accredited strength and conditioning coach with both the UKSCA and NSCA, and has consulted with Olympians, professional and international athletes in a range of disciplines. Paul has also authored over 100 research publications in the fields of sports medicine, science and strength and conditioning. His research focuses on assessment strategies of lower limb neuromuscular control in both injured and non-injured athletes and enhancing the efficacy of return to sport assessment strategies following ACL reconstruction.
PERRY STEWART
TRAINING YOUNG ATHLETES: THEORY INTO PRACTICE
Perry is an established strength and conditioning coach with experience of working with developing and elite athletes from a multitude of sports, including football, tennis, fencing, athletics and martial arts. Perry is an accredited strength and conditioning coach and chartered sport scientist, who has devoted the past decade to developing youth athletes.
He is a published author, international presenter and winner of the UKSCA S&C Coach of the Year award for Youth Sport in 2020. Perry completed a Masters in S&C at Middlesex University in 2011 and is currently a part time PhD student at Loughborough University, researching multidisciplinary team effectiveness in elite sport. In his current role, Perry works as a lead academy strength and conditioning coach at Arsenal Football Club, working predominantly with U9-U16's.
JONAS DODOO
COACHING EYE: KPI'S FOR POSTURE IN GENERAL TO SPECIFIC EXERCISES
Jonas developed as a coach through his passion for speed and power and was lucky enough to be under the tutelage of Master Coach Dan Pfaff for four years. Jonas has worked with many elite performers across a range of sports but with his main successes and main role within Track and Field. Jonas currently has an Elite Group of Sprinters based out of the National Institute at Loughborough and he is also currently consulting at Premiership and Championship Football and Rugby clubs working with their staff and first team players.
DR. KEN CLARK
FROM THE LAB TO THE TRACK SCIENCE AND APPLICATION OF LINEAR SPEED
ASSOCIATE PROFESSOR, DEPARTMENT OF KINESIOLOGY - WEST CHESTER UNIVERSITY
Dr. Ken Clark is an Associate Professor in the Department of Kinesiology at West Chester University, where he teaches Biomechanics and Motor Learning. Ken's research focuses on sprinting biomechanics, and he also has over a decade of speed development and strength & conditioning coaching experience.

This presentation will summarize the latest research in linear speed, including both acceleration and top speed, and summarize the practical applications as it relates to speed development.
DR. NICK WINKELMAN
THE LANGUAGE OF COACHING - BECOMING A COMMUNICATION ATHLETE
IRISH RUGBY FOOTBALL UNION
Nick Winkelman is the Head of Athletic Performance & Science for the Irish Rugby Football Union. His primary role is to oversee the delivery and development of strength & conditioning and sports science across all national and provincial teams. Prior to working for Irish Rugby, Nick was the director of education and training systems for EXOS. Nick completed his PhD with a dissertation focus on motor skill learning and sprinting. Nick is an internationally recognized speaker on human performance and coaching science and has multiple peer reviewed publications and book chapters alongside his own book, The Language of Coaching: The Art & Science of Teaching Movement.
RICK HOWARD
THE 10 PILLARS OF LTAD - KEY CONCEPTS FOR PROGRAMMING, PRACTITIONERS AND PARTICIPANTS
ASSISTANT PROFESSOR IN APPLIED SPORT SCIENCE - WEST CHESTER UNIVERSITY
Rick Howard earned his doctorate in Health Promotion and Wellness from Rocky Mountain University of Health Professions. He is an Assistant Professor in Applied Sports Science at West Chester University (PA) and a Teacher in the Personal Training and the Strength and Conditioning programs at Keilir Health Academy (IS). Howard is a Fellow of the National Strength and Conditioning Association (NSCA). He contributes peer-reviewed articles, blogs, and podcasts and presents nationally and internationally on long-term athletic development and the application of concepts of pediatric exercise science for coaches, personal trainers, and physical education teachers.
DR. SEAN CUMMING
GROWTH & MATURATION IN YOUTH SPORT - A PANEL DISCUSSION HOSTED BY SPORTSMITH
UNIVERSITY OF BATH
Dr Sean Cumming is internationally recognized as a leading expert on the subject of growth and maturation in sport and exercise. Adopting a biocultural perspective, his research seeks to understand how biological and psychosocial factors impact athletic development and the maintenance of health behaviors during adolescence. Experienced in the use of invasive and non-invasive methods for the assessment of growth and maturation in youth, he has worked in research and consultancy roles with the Premier League, Football Association, Lawn Tennis Association, British Gymnastics, One Dance UK, British Triathlon, Cleveland Indians, Sports Office, Team Bath, and Bath Rugby. He currently supervises PhD students with the Lawn Tennis Association, British Gymnastics, Southampton FC, Bournemouth FC, and Manchester United FC. Sean will be joined by a number of his PhD students to discuss their latests research in the area of Growth & Maturation in Youth Sport.
DR. CORINNE YORSTON
GROWTH & MATURATION PANEL DISCUSSION
Currently working as the Women's Youth Development Phase and Talent Pathway Player Insights Lead at The FA. Corinne drives the talent identification and talent management of young, English, female footballers to promote the sustained success of England Women's football teams. Prior to this, her professional career was focused on the physical development and preparation of athletes, working as the Physical Performance Lead for the Talent Pathway at The FA and as a Strength and Conditioning Coach at Team Bath. Alongside her work, Corinne has recently completed her PhD in Growth, Maturation and Adolescent Fitness at The University of Bath. Corinne is also played football professionally, competing in 3 FA Cup Finals, 4 UEFA Champions League Campaigns and representing England at all age groups.
DR. MEGAN HILL
GROWTH & MATURATION IN YOUTH SPORT - A PANEL DISCUSSION HOSTED BY SPORTSMITH
LEEDS BECKETT UNIVERSITY
Megan is a Post-Doctoral Researcher at Leeds Beckett University. She completed her PhD at University of Bath in 2020, with Dr Sean Cumming and Dr Darragh McGee and Southampton Football Club investigating the effects of growth and maturation on talent identification and selection in elite youth football.
PATRICK MILLS
GUIDING THE DEVELOPMENT OF THE ASPIRING WORLD JUNIOR ATHLETE - APPLICATION OF S&C SUPPORT
STRENGTH & CONDITIONING COACH
Patrick is a strength & conditioning coach who has recently returned to the UK after 8 years with the Aspire Academy where he was most recently a Senior S&C Coach. He has coached in three countries with time spent delivering to multiple sports at the South Australian Sports Institute, and professional rugby in the UK, before Qatar. Across all sports he has specialised his practice in supporting adolescent athletes transitioning through to become senior professionals and international representatives.
DR. PETER VERDIN
OPERATIONALIZING THE CLA THROUGH A PLAY-BASED APPROACH
ELEMENTARY SCHOOL MOVEMENT ENGINEER
As athletes and children progress to higher levels of competition we often see structure of practices and training sessions increase. At a time when they have more tools in their movement tool belt, we limit the opportunities to put them to use. A play-based approach has the potential to drive engagement, meaningfulness, and also operationalize approaches like the constraints-led approach to developing skill. This presentation will give an overview of what play-based, emergent learning is while giving concrete examples of what it looks like.
JOHNNY PARKES
ATHLETE PROFILE X GAME STYLE
ASSISTANT HEAD OF S&C - IMG ACADEMY
Johnny Parkes is the Assistant Head of S&C at IMG Academy, heading up the S&C program for IMG Tennis Academy. Prior to this, Johnny served as the Senior Manager of Player ID and Development for the United States Tennis Association (USTA) Player Development Department, where he oversaw the Team USA Junior player, coach and parent development structure for 15 and under athletes across the US. His role also involved working with Coach Education, writing modules for the certification of tennis coaches in the US. Johnny is a Master Tennis Performance Specialist through the ITPA, member of the GAIN Network and Leaders In Sport.
JASON HETTLER
ATHLETE PROFILE X GAME STYLE
SPEED & AGILITY COACH - IMG ACADEMY
Jason Hettler is the Speed and Agility Coach at IMG Academy. Prior to this, Jason was the Performance & Innovation Manager at ALTIS - a private training center specializing in Track and Field and Coach Education located in Phoenix, Arizona. During this time, his role included external coaching contracts with Triathlon Canada, the Chinese Olympic Committee, and various consulting roles within Major League Baseball. Additionally, Jason assisted with the creation and editing of various digital and in-person education programs.
MISSY MITCHELL-MCBETH
EVERYTHING OLD IS NEW AGAIN - WHY BASIC IS BEST IN MIDDLE & HIGH SCHOOL S&C
HEAD STRENGTH & CONDITIONING COACH
Coach Mitchell-Mcbeth is currently the Head Strength and Conditioning Coach at Byron Nelson High School in Trophy Club, Texas. Here she designs and implements training programs for all Olympic sports on campus and trains sport coaches to assist in the weight room. She is also the region 2 board member for the National High School Strength Coach's Association and the owner of Safe Iron, LLC a consulting company geared toward sport coach education. Prior to her time at BNHS, she was the Senior Assistant Strength and Conditioning Coach at TCU in Fort Worth, TX. She held this position for 7 years. Before that, she was a high school volleyball, track, and powerlifting coach. Mitchell-Mcbeth holds a Master's degree in exercise physiology with an emphasis in strength and conditioning from Baylor University and holds CSCS, SCCC, USAW, and FRC certifications.
JOEY GUARASCIO
MODERNIZING AMERICAN FOOTBALL TRAINING
HEAD FOOTBALL STRENGTH & CONDITIONING COACH
Joey Guarascio is currently the Head Football Strength and Conditioning Coach at Florida Atlantic University. He also has experience at Colorado State and Ole Miss. He is a Level 1 Sports Performance Coach for USA Weightlifting and is certified with the National Strength and Conditioning Association as a Certified Strength and Conditioning Specialist with the distinction of Registered Strength and Conditioning Coach.
JAMES MOREHEN
PERFORMANCE NUTRITION FOR YOUTH ATHLETES:
WHAT CAN WE LEARN FROM FOOTBALL AND
RUGBY PLAYERS?
PERFORMANCE NUTRITIONIST
Dr James C. Morehen is a performance nutritionist currently working with
professional athletes and elite individuals from the corporate world.
Through Morehen Performance Ltd, he has spent the last eight years
supporting individuals from England Football, rugby union, rugby league,
professional boxing, Formula 1, golf, Premiership football, HSBC Global,
IKEA and Credit Suisse.
More speakers and talk topics to be announced soon....
Purchase standalone access to this amazing conference for a one time fee of £300, or, get FREE access with one of our VIP membership packages.
LTAD NETWORK
The LTAD Network is the preeminent coach education network for fitness and performance coaches around the world. Bringing together world class, international expertise in Long-Term Athletic Development, we also recognise the importance of connecting the dots and catering to practitioners working at all levels. Not only are we focused on resources, methods and information to develop athletes, but also to upskill those within the network. It is our philosophy that coaches need coaching too, so we engage strength and conditioning leaders around the world to support the personal and professional development of our coaches.
Created with